Finnair's transformation is flying high with Salesforce
Finnair is flying high: in 2018 it transported a record number of passengers between more than 100 destinations around the world. But the airline has its sights set even higher. Finnair wants to increase passenger numbers from 13.3 million to 20 million by 2030 and double ancillary revenues by 2020. And that means it needs to differentiate itself in a competitive and low-margin market.
"We want our customers to feel good about our brand and our experience," said Johanna Jäkälä, CMO and Vice President for Brand, Marketing and Customer Loyalty at Finnair. "There's a lot of disruption and complexity in the airline market; our aim is to make things simple for our customers."
Finnair is a network airline that specialises in passenger and cargo traffic between Asia and Europe. Finnair also offers package tours under its Aurinkomatkat-Suntours and Finnair Holidays brands.
Acquiring new customers in new markets.
Finnair is already strong player in its native Finland, but it aspires to grow by connecting Asia and Europe via Helsinki, and attracting customers from markets such as the UK, Germany, China, and Japan. "Growth is in our DNA," commented Jäkälä. And she's right – the airline's roots date back to 1920s when its passenger count was less than 300.  
Finnair has built its Asian strategy systematically, and it has been a pioneer in connecting Asian destinations to Europe – it was the first European airline to fly non-stop to Japan in 1983, and now serves 19 Asian destinations via its Helsinki hub. It is one of the safest and longest-operating airlines in the world.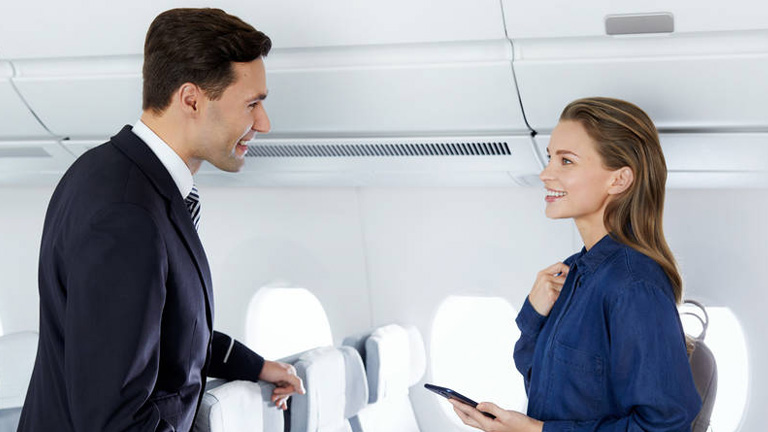 Transformation brings greater visibility and simplicity.
To support its current growth ambitions, Finnair embarked on a transformation of its customer service operation and global sales capabilities for the business-to-business market. Finnair Group has used Salesforce since 2011 starting from Finnair´s subsidiary and tour operator called Aurinkomatkat, and the platform has been fundamental to the transformation. "Salesforce has been our most successful IT project," said Pia Viljaniemi, Head of Commercial Applications at Finnair. "It provides a central platform for capturing customer data and managing and enriching ongoing relationships."
As part of the transformation, Finnair has expanded its use of the platform and deployed Salesforce CPQ, which simplifies the configuration and generation of complex quotes. "By bringing greater visibility and simplicity to our business, Salesforce helps to drive growth and increase customer engagement," said Jäkälä.
Making things as simple as possible is particularly key when it comes to customer service. As Karim Al-Soufi, Vice President for Ground Customer Experience at Finnair, explained: "Our customers have very different needs, but they all share the same high expectations. Delivering great customer service is a differentiator for us."
Richer information enables a faster response to customer queries.
Finnair's global customer service hubs receive around 100,000 queries a month. From travelling with a pet and checking baggage allowances to upgrading seats and changing bookings, service agents need to be able to access a broad range of information to respond to customer requests.  
Prior to deploying Service Cloud, finding this information was time-consuming and complex. "Agents often had to call customers back as they didn't have access to the right knowledge right away," revealed Al-Soufi. "We needed to empower our agents so we could improve first contact resolution."
A consistent service across multiple channels.
Finnair deployed Service Cloud to its 400 agents and it's revolutionized how they work. As well using the solution to create an internal knowledge base, the airline publishes extensive FAQs on its website to enable customers to answer their own queries.
The solution is integrated with online customer service forms as well as the airline's social media sites. "With Salesforce, we can provide a consistent and personalised service across multiple channels and multiple markets," said Al-Soufi. "It has increased efficiency and enriched the customer experience."
By analysing the cases captured in Service Cloud, Finnair can update its online FAQs to meet changing customer demand for information. "We now have the analytics and insights we need to keep optimising and enriching customer service," explained Al-Soufi.
Empowering agents to generate revenue.
The airline's service agents play an important role in selling ancillary products, such as on-board food and seat upgrades, which can also be purchased through digital channels. "Service Cloud helps our agents understand which ancillary services to position with different customers," said Al-Soufi. "It is key to driving revenue generation and growth."
By integrating Service Cloud with Sales Cloud, information on B2B passenger cases can be shared with the team responsible for corporate accounts, giving them visibility of any issues prior to customer meetings.
Creating a more efficient and proactive sales team.
Providing the sales team with greater visibility is a central driver behind the B2B global sales transformation. To support its plans, the airline has rebooted its use of Sales Cloud by moving to the Lightning Experience. It is also blazing a trail in the industry with the implementation of Salesforce CPQ.
This powerful combination will streamline processes and enable the 150-strong global B2B sales team to work more effectively and proactively. "With Sales Cloud Lightning, our sales team and managers will have a personalised dashboard that relates to their clients, leads, and tasks," said Tuuli Ruuti, Development Manager, Sales Strategy and Planning at Finnair. "It will provide a 360-degree view of our B2B customer base, which will make forecasting easier and better."
Complex customer contracts made simple.
Finnair's B2B sales team is working with thousands of travel agents and corporate customers. "There is no such thing as a standard deal; it's a very complex process," explained Ruuti. "Salesforce CPQ can be adapted for different markets, which will make it easier for us to model quotes and contracts."
Finnair has also made it easier for sales teams to collaborate with their colleagues by introducing Chatter and the Salesforce Mobile App. "The team can now dictate their notes on their iPhone while still on the road. With Salesforce, they have their client history in their pocket," said Ruuti. "Our B2B global sales team is more productive and satisfied."
Delivering a great experience that delights customers.
Finnair's transformation goals don't stop at sales and service; it also wants to change how it communicates with B2C and B2B customers. The airline uses Marketing Cloud to send around 100 million emails a year to its B2C passengers. "We need to send the right message at the right time on the right channel," said Jäkälä. "With Marketing Cloud, we can personalise emails and campaigns based on different customer journeys."
In the future, the airline will use these journeys to help identify the 'next best action' for both B2B and B2C customers. Creating a community for corporate clients and travel agents is also on Finnair's transformational agenda. "With Salesforce, we can boost customer awareness and acquisition and ensure we are delighting our passengers time and time again with a great experience and a great service," said Jäkälä.
Suosittelija:
Salesforce has been our most successful IT project, It provides a central platform for capturing customer data and managing and enriching ongoing relationships.
Pia Viljaniemi, Head of Commercial Applications
Referenssin infoboxi
Tiedot
| | |
| --- | --- |
| Tilaaja: | Finnair |
| Ajankohta: | 2011 - |
Lisätietoja
Tagit
Liiketoimintaprosessi
| | |
| --- | --- |
| | Asiakaspalvelu |
| | Markkinointi |
| | Myynti |
Erikoisosaaminen
| | |
| --- | --- |
| | Pilvipalvelut / SaaS |
Toimialakokemus
| | |
| --- | --- |
| | Asiantuntijapalvelut |
| | IT |
Teknologia
| | |
| --- | --- |
| | Salesforce |
Tarjonnan tyyppi
| | |
| --- | --- |
| | Valmisohjelmisto |
Salesforce - Asiantuntijat ja yhteyshenkilöt
Asiantuntijoita ja yhteyshenkilöitä ei ole vielä kuvattu.
Salesforce - Muita referenssejä
Salesforce - Muita bloggauksia
It- ja ohjelmistoalan työpaikat
Kaikki it-alan työpaikat »
Premium-asiakkaiden viimeisimmät referenssit
ite wikin referenssihaku »
Tapahtumat & webinaarit
Kaikki it-alan tapahtumat »
Premium-asiakkaiden viimeisimmät bloggaukset
ite wikin julkaisuhaku »
Digitalisaatio & innovaatiot blogimedia

Blogimediamme käsittelee tulevaisuuden liiketoimintaa, digitaalisia innovaatioita ja internet-ajan ilmiöitä